Cla-Val Products

Cla-Val Exclusive Factory Representatives for Automatic Control Valves and Cla-Val (Claval) Products in New York (NY) (including Long Island and Westchester) also Connecticut (CT) & Rhode Island (RI).
Harper Haines Service Department. Cla-Val Factory Authorized Service Provider. Our factory trained technicians provide Cla-Val technical know-how, engineering design support, and product service maintenance throughout New York, New Jersey, Connecticut & New England. You Call, We Roll.
Cla-Val products are backed by the best factory warranties – no matter from whom you purchased your valves.
Since 1936, Cla-Val has been a leader in the design and manufacture of automatic control valves. Cla-Val products are considered the best in class for reliability and innovation serving waterworks, fire protection, HVAC, commercial irrigation, aviation ground fueling, marine, and industrial customers throughout the world.
Waterworks Products
Cla-Val's automatic control valves are specifically designed to meet the requirements of water utility systems, greatly improving supply and distribution system efficiency while helping to save water and reduce usage through pressure optimization, backed by the best warranty in the business.
Their valves have been tested and shown to be in compliance with industry lead content requirements and drinking water standards. Please see Certification and Approvals for more information.
Cla-Val electronic control valves combine the efficiency of hydraulic control with advanced technology electronics to provide the optimum SCADA remote control solution.
Their retrofittable electronic accessories further enhance the functionality of your Automatic Control Valves, providing you with unparalleled control and superior performance.
Cla-Val Factory Tour
We are pleased to take you on a virtual tour of the Cla-Val factory. Learn about the Cla-Val design and manufacturing capabilities, watch the Cla-Val foundry in action.
Click the play button and enjoy the tour.
Interested in a Cla-Val factory tour, contact Harper Haines-Haines Fluid Control at 203-693-3740.
Cla-Val Automatic Control Valves are specifically designed to meet the requirements of water utility systems and are preferred by operators, managers, and design engineers.
Some of the products include:
Pressure Reducing Valves
Pressure Relief Valves
Tank Altitude / Level Control Valves
Pump Control Valves
Flow Control Valves
Solenoid Valves
Pressure Management Valves
Electronic Control Valves
Air Valves & Check Valves
Cla-Val Commercial Building Products
Harper Haines brand term: Total Cost of Ownership (TCO), has been used for years to describe high reliability and low maintenance for the valves we represent. Our goal: to reduce customers' total cost of ownership, and to guarantee uninterrupted water supply. Customers can count Harper Haines to provide the correct Cla-Val Product in your system. Some of the applications include:
Pressure Reducing Valves
Excess Pressure Safety Valves
Tank Fill Float Valves
Safety Solenoid Shut-Off Valves
Pressure Relief Valves
Chillwater / HVAC Control Valves
Pump Control Valves
Stormwater Control System Valves
Cla-Val Fire Suppression System Products
Cla-Val fire protection products provide highly accurate and reliable service in the most critical of applications. Known for dependability and superior performance, Cla-Val fire protection products can be found in nearly any type of facility on or off shore, including oil platforms, FPSOs, refineries, power plants, chemical storage facilities, mines, tunnels, aviation facilities, high-rise office and residential buildings, hospitals and historic landmarks.
Cla-Val Automatic Breach Control Valves are specifically designed for use in high-rise buildings to prevent catastrophic failure of fire system piping in the event of a line break.
Cla-Val's hydraulic, pneumatic and electronic deluge valves are your best defense against fires at installations with highly flammable materials.
Our fire pump pressure relief valves and pump suction control valves are the first choice when seeking optimal control in fire pump applications.
Cla-Val fire products are UL and ULC listed and have Factory Mutual approval along with many other industry approvals and certifications. Our products are suitable for fresh water and seawater service, and are available in a wide range of materials, including exotic materials such as Nickel Aluminum Bronze, Super Duplex Stainless Steel and Titanium. to see a tour of our foundries and manufacturing facility
No matter how challenging your requirements are, Cla-Val has the fire protection product you need to protect lives and property.
Cla-Val Fire Pr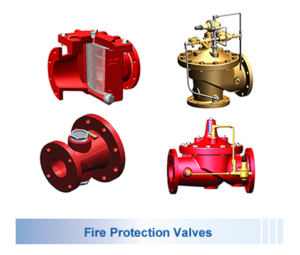 oducts are used in commercial buildings, industrial and refinery applications and include:
Pressure Reducing Valves
Fire Reserve Make-Up Valves
Deluge Control Valves
Fire Pump Relief Valves
Fire Pump Suction Control Valves
Automatic Breach Control Valves
Cla-Val Industrial Application Products
Pinch Valves, because of their simple yet effective design, Cla-Val Pinch Valves provide excellent flow control for hard-to-handle media such as slurries, sludges, and dry solids. The sleeve is the only valve part exposed to line fluid, significantly reducing the incidence mechanical component breakdown.
Cla-Val Pinch Valves are available in a variety of configurations and sleeve materials to meet exacting operational requirements in industrial and wastewater applications.
Other Industrial Valves include:
Pressure Control
Level Control
Duckbill Check Valves
Rubber Pinch Valves
High Performance Air Valves
Cla-Val & Harper Harper-Haines Fluid Control – Partners for over 30 years.
---
To find out more, contact a Harper representative.
Harper Haines Fluid Control, Inc.
125 Old Gate Lane, Milford, CT 06460
Telephone: 203.693.3740 * Fax: 203.547.6092
YOU CALL, WE ROLL.