EFI's Factory-Built Pump Stations Saved Time and Assured Quality for Aquarion and Malcolm Pirnie
---
When David Medd, manager of supply operations for Connecticut-based Aquarion Water, considered options for the water company's Glenville Road pumping station in Greenwich, the site posed unusual challenges.
To serve the development of 45 new homes, the pumping station was to be located underground, powered by an above-ground sound-attenuated generator. Explained Medd: "The space was extremely tight, tucked under the road to the development."
Time was tight, too. "The developer needed to have the project ready for occupancy, and we knew the town permitting authority didn't want the road closed for construction for any length of time," said Medd.
EFI's Track Record Was Key
---
Aquarion Water, CT already had excellent experience installing factory-built pumping stations from Engineered Fluid, Inc. (EFI), and Harper Haines Fluid Control is where they "go" for pumping stations.
Once Aquarion's engineer determined the flow requirements, Harper's Fred Haines got involved in helping specify the equipment and running calculations for the town approval process. "Fred walked the site with us, so he was well aware of the small space we were operating in," noted Medd.
Despite the limited space available, EFI built the pump station in a steel enclosure that is friendly to maintenance operations, with ample clearance space for workers. According to EFI's chairman, Jack Goodspeed, such attention to detail reflects the company's expertise in its narrow field.
"We know a whole lot about a little, delivering 220 pump stations a year. EFI originated the business of building pump stations in a controlled factory process," said Goodspeed, "and we've been at it for 42 years."
Designed Ahead of Site Selection
---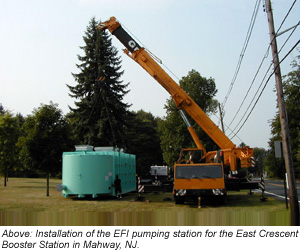 The delivery speed was also essential for John McCarthy, project director for the environmental consulting firm of Malcolm Pirnie, Inc. on the East Crescent Booster Station in Mahwah, New Jersey. "We had a unique situation in that we didn't have a site when we began fabrication of the pump station," said McCarthy.
The pumping station was needed to allow a new school to open, and the client was still negotiating for the site. However, they did not want the site negotiations to delay building the pump station, which had to be in service at the beginning of the upcoming school year.
Just as critical, however, was McCarthy's confidence in EFI as the single source for all elements of the project. "When we specify a project in a situation like this, we want to know what we're getting," said McCarthy. "With a general contractor building on site, we have less control. With EFI's factory-built solution, we knew we would get what we asked for."
EFI's engineers have deep expertise in pumping potable water. In addition to mechanical engineers who put the equipment together, EFI's electrical engineers work out the power requirements of the pumps and other equipment, while their programmers integrate the Programmable Logic Controllers (PLC) into the system.
Smooth Vendor Communication
McCarthy said that Fred Haines was helpful on the ground, facilitating communication with EFI. "Fred listened carefully to what we were looking for. He also gave us good insight about EFI's factory floor, including pictures of how the pump station is put together," he noted. "Both Harper and EFI were frank with us about elements that could add costs; there were no surprises," said McCarthy.
Although engineers are familiar with factory-built pumping stations, some end users are new to the concept. "The client's initial reaction to the idea can be negative, said McCarthy, "and it takes time to educate them about the benefits." He said the client may need to see examples both above and below ground before they are comfortable. "Our client was very happy with the final project," said McCarthy.
"Engineers and end-users alike really appreciate our single point of responsibility for the project," noted Haines. The alternative is to bid out construction to a general contractor, who in turn bids the job to five or more subcontractors. If things do not work right, it can be tough to pin down the responsibility – especially when a PLC is involved.
"When the equipment is in the ground, EFI is on the nameplate," said Goodspeed. The key is good communication to determine what fits in the client's overall system. Harper Haines Fluid Control effectively works as a consultant, interfacing with both EFI and the client to develop the right information.
Learn More
For more information about EFI's factory-build pumping stations and how they may fit into your system, contact Fred Haines at Harper Haines Fluid Control, at 203-693-3740 or email fhaines@harper-haines.com.
---
To find out more, contact a Harper representative.
Harper Haines Fluid Control, Inc.
125 Old Gate Lane, Milford, CT 06460
Telephone: 203.693.3740 * Fax: 203.547.6092
YOU CALL, WE ROLL.